The sewer trowel is an extra-wide heel brick trowel, usually with a shorter 5-inch handle and the shape of the London pattern.
W. Rose is the only company
I found in the US or UK who still makes a sewer trowel. The sewer trowel has also been called the New England pattern by W. Rose and Disston (1918 catalog) and the Boston pattern by Marshalltown (catalog number 45).
Although hidden below ground, brick sewers were one of the
greatest construction achievements
of the industrialized nations in the 19th and early 20th centuries.
A few are open for public tours
either regularly or occasionally. The sewer trowel was made for the unique needs of this construction.
W. Rose 1929 catalog
W. Rose 9½ inch sewer trowel
Additional information:
How brick sewers were built, 1908 book
Brick sewer construction, 1917 article
SewerHistory.org
Paris sewer history
Paris Sewer Museum, Musée des égouts de Paris
Building London's sewers was the biggest civil engineering project in the world at the time.
A glimpse into London's early sewers
The octagon room at Crossness Pumping Station, Belvedere, Kent, UK
History of the Newark, NJ sewer system
"Notes On Building Construction", Brick Drains and Sewers
Brick sewer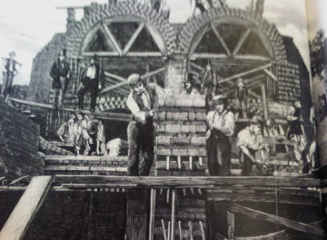 Brick sewer construction