Types of stone chisels include the following:
Toothed chisel (2-tooth, 3, 4, 5, 6, etc.)
Flat chisel
Bolster chisel or drove chisel
Point, or point chisel
Angle chisel, skew chisel, or miter chisel
Rondel chisel, round chisel, or bullnose chisel
Inverted rondel chisel
Gouge
Cape chisel or splitter
Lettering chisel
Generally they are sized small, medium, or large.
Stone chisels made to be struck with a steel hammer are called hammer head. Mallet head chisels have larger, mushroom-shaped heads that won't damage a wooden mallet.
Here are several photos from eBay of stone chisels, and at top an image of traditional French designs.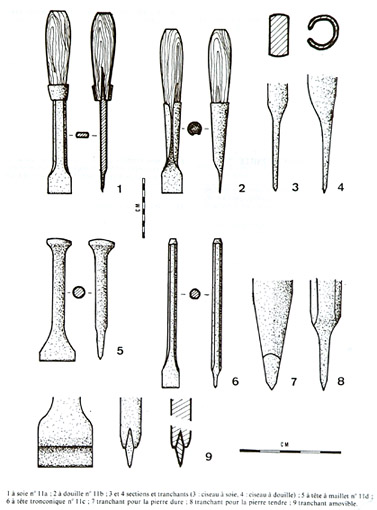 Traditional French stone chisels
Stone chisels in canvas roll
Toothed stone chisels (mallet heads)
Toothed, flat, rondel, and point chisels (hammer heads)